Selling on Amazon is a competitive business, so you should take any opportunity possible to increase your Amazon conversion rate.
One of the most effective methods is social media advertising. After all, billions of people use social media, meaning your social media ads can have massive reach.
Without utilizing this tool, you won't be fulfilling your potential as an Amazon seller. Just too showcase the significance of Social Media Ads, according to JungleScout – 40% of consumers search & buy products while on social media.
Luckily, there are some clear tips for making the most of social media advertising. Done properly, it can help to massively improve your Amazon conversion rates.
Want some instructions to start with?
If you need help, Lezzat is an Amazon Marketing agency in the UK with a team of high professional marketers and Amazon sellers, as we mentioned in our latest interview for BestStartups in the UK.
Read on to find out more.
What is Social Media Advertising?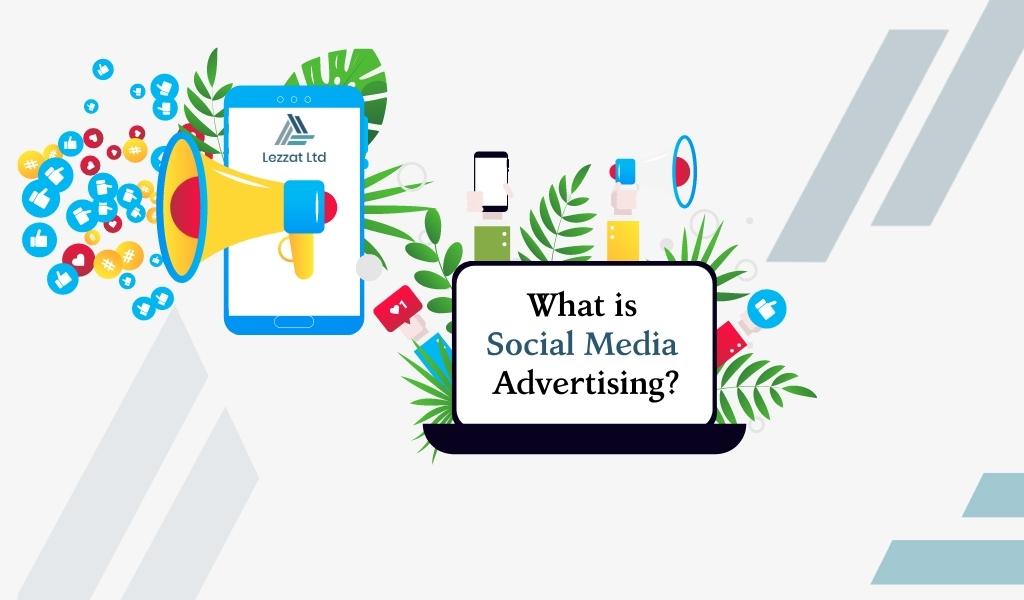 Social media advertising is simply using adverts designed for social media platforms.
The most obvious example is Facebook Ads, although you can devise an advertising strategy for any social media platform.
It functions as one of the earliest stages in your sales funnel.
By adjusting your social media ads to your target audience, you can create interest and awareness in your products with surprisingly little effort.
While this strategy relies partly on trial and error, you can use social media advertising statistics to improve conversion rates.
We'll explain this in more depth below.
Tips for Social Media Advertising for Amazon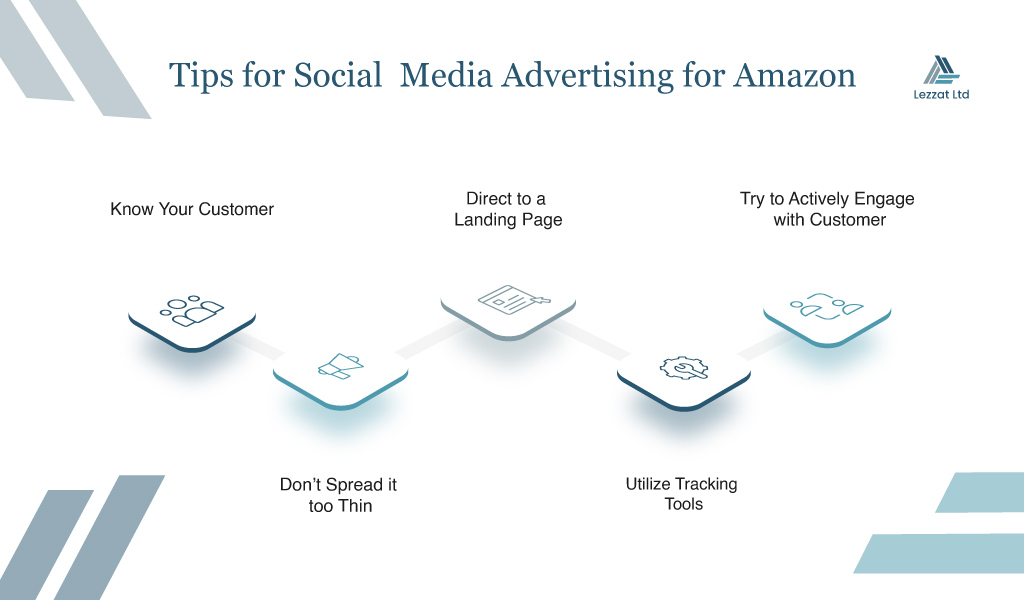 1. Know Your Customer
This is the most important starting point for any marketing campaign.
Knowing your target audience allows you to create adverts that cater to their tastes and pain points.
Sometimes, your audience might be quite general, but other times it might be very specific. Click here to learn more about your how create a niche Amazon strategy.
One of the easiest ways to get started is to look at your sales history. See where you've sold the most products and advertise in these locations.
Various social media advertising platforms allow you to refine audiences based on different criteria.
For example, Facebook Ads has broad metrics like age, gender, and location, but also more niche metrics like interests and income level.
Just to get a grasp, Facebook has an ads audience of 2.14 billion, read more on Hootsuite's Q4 update.
The more information you have about your target audience before creating an ad campaign, the better your results should be.
2. Don't Spread it too Thin
You might think that advertising on every platform possible will draw in more customers.
But, social media advertising cost aside, this strategy won't work for several other reasons.
First, you need to optimize your ads for each platform. If you're doing this in-house, it's unreasonable to expect one person to have the time and knowledge to do this.
It's much more effective for your Amazon conversion rates to optimize one or two platforms than to advertise on all of them.
You can create ads that appeal to their needs and ways of consuming information.
You might need to do some testing to find out the specific answers for your business.
Run a few campaigns and use social media advertising statistics to get data. Use this to inform your top choices for advertising platforms.
And don't forget to add video content from your Amazon listings – this is the best trend out there.
3. Direct to a Landing Page
Speaking of statistics, the best way to get these is by directing them to a landing page. What do we mean by this?
When potential customers click a link, it should take them to your Amazon store rather than the specific listing.
It also helps to "warm up" customers before buying. From a psychological perspective, customers clicking on social media ads can be considered "cold" buyers.
In short, it means they're not as ready to buy as someone searching directly on Amazon.
You can use a landing page to collect emails and important data for your social media advertising statistics.
This helps to inform your future campaigns because you can decide what's worked best.
4. Utilize Tracking Tools
There are plenty of tools available to track your Amazon PPC conversion rate. Facebook Ads and Google Ads have tracking systems built in, or you could use a third-party platform.
Then there's Amazon Attribution. It allows you to track and measure data from any non-Amazon platform, such as social media.
Importantly, it makes it easier to track social media ads across multiple platforms to see what works best.
You must be enrolled on the Amazon Brand Registry to be eligible for the programme.
5. Try to Actively Engage with Customers
Social media platforms have embraced chatbots with open arms, and you should too.
You can create ad content that includes personal messages to anyone who interacts with the ad.
Chatbots can be fairly easy to set up, particularly if you go with a platform that uses pre-set functions.
Of course, something like this will bump up your social media advertising cost, but it can be a great way to improve conversion.
Not only will this help to create engagement, but it's also a good way of addressing questions, concerns, or pain points.
If you want to test your advertising methods by studying what is working, try out Facebook's Ad Library –it's a free educational resource.
You can use it as a less invasive way of leading customers into a sales funnel than a hard-selling landing page.
6. Focus on the Long-Term
Social media advertising is a long-term gain that likely won't deliver short-term results. Be sure to focus on this when starting your campaigns.
You can use social media ads to gather more specific information about your target audience and to reach more markets than you would just advertising on Amazon.
An effective campaign will use social media advertising statistics to constantly optimize content.
This can take months, but the results will help to drive Amazon conversion rates up.
Create a successful Amazon Marketing Strategy might take time, but the future consistent profits are real.
Make sure you develop a strategy that drives traffic with a high buying intent. If this isn't happening, work out why.
Conclusion
Social media advertising has the power to transform Amazon conversion rates.
Done properly, social media ads increase your reach into new markets and bring in interested buyers.
Of course, learning each platform takes work. If this is something holding you back, Lezzat can help.
As a professional Amazon marketing agency, we know how to utilize social media advertising for success.
Contact us for more information.
Please consider to Like&Share!