When it comes to selling on Amazon there are mainly 3 ways that a business can sell their products on the Amazon platform. In this article we will explore each one so that you can understand which is best for your business.
Want to get your business on Amazon? You are just a click away.
Difference between Amazon FBA, Vendor, and FBM?
Fulfillment by Amazon (FBA): FBA is a method of selling on Amazon in which a seller sends their products directly to Amazon's warehouses. Amazon stores the inventory and ships it directly to the customer who has bought the product. They also manage customer returns for these products as well as keeping the customer up to date in regards to where their goods are. This is by far the most popular method for selling on Amazon as more than 92% of sellers choose FBA as a method for fulfilling their orders (more on this further below).
Fulfillment by Merchant (FBM): A method of selling on Amazon in which a seller lists their products on Amazon but is responsible for sending the goods to the end customer. All storage, shipping, and customer support is handled by the seller, or can be managed through another third-party such as an external warehouse (aka 3PL).
Amazon Vendor (Vendor): The major difference between Amazon sellers (i.e., FBA/FBM) and Vendors is who is selling the product. Sellers's list, price, and market their products themselves as in both FBA and FBM. However, Amazon Vendor is an invite only program whereby Amazon invites sellers, usually very popular and high performing accounts, to the Vendor program. As an Amazon Vendor, Amazon purchases in bulk the inventory of the seller and manages their listing on Amazon so that the seller only has to worry about restocking their inventory and making their listing look as good as possible.
It is important to stress at this point that all 3 methods do require high quality photography, listing optimization and advertising management (PPC management).
Don't know which one suits you the most? Feel free to ask one of our specialists on the matter.
FBM VS FBA in 2021:
Based on a JungleScout research, almost all Amazon sellers (92%) are using Amazon FBA, and a two out of five (43%) use Amazon FBM as well. Broken out, Amazon sellers sell:
FBA only: 57%
FBA and FBM: 34%
FBM only: 9%
The below chart showcases this: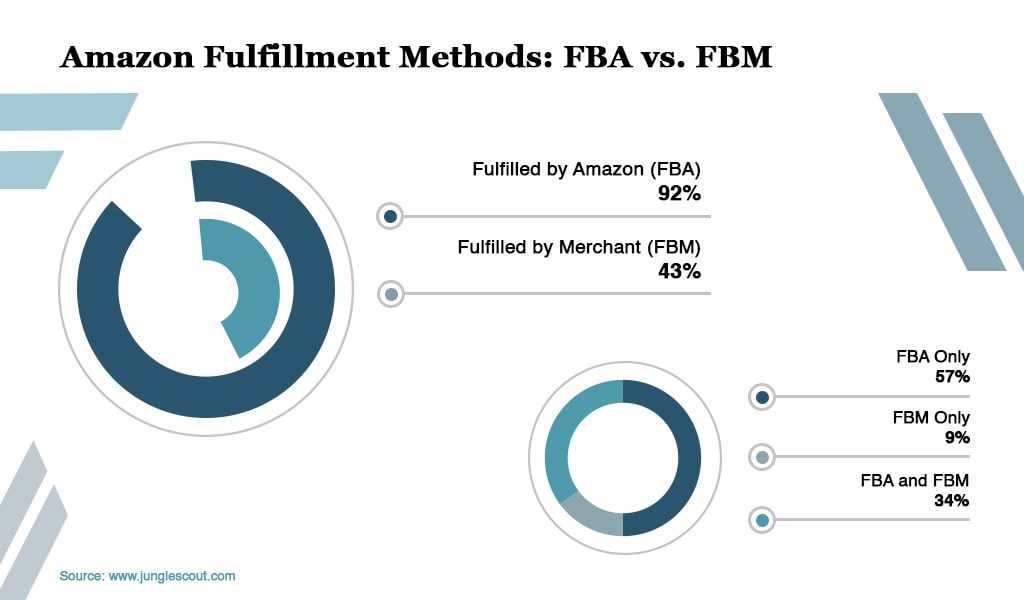 Below is a list of tips for when a particular method is preferred.
Sellers should use FBM if…
Seller wants more control over customers' orders.
Excellent customer service practices are already in place by the seller.
The products being sold are oversized or heavy.
Sellers already have logistics arrangements in place thus not needing to use such services provided by Amazon.
Sales for the product are particularly low (e.g. high priced furniture) and thus storing goods in FBA can be expensive
Sellers should use FBA if…
Seller does not want to get involved with fulfilling the orders or with customer support.
Seller wants Amazon to handle customer service.
Inventory stock levels are not too high (i.e. all inventory is sold within 3 months or less)
The seller does not have logistics in place (i.e. a warehouse to fulfil orders)
Expenses would be higher if the seller fulfilled their products.
Lastly, but more importantly, FBA is for sellers who only want to focus on growing their product sales and brand without the headache of customer support and fulfilment.
The seller should use Vendor Central if…
They are exceptionally large brands that do not have the bandwidth to manage their Amazon store.
They are manufacturers of products that do not want to be VAT registered in each country they intend to sell in.
Companies that want to build an extremely fast online presence and want to opt in for an aggressive e-commerce strategy focusing more on volumes and less on margins.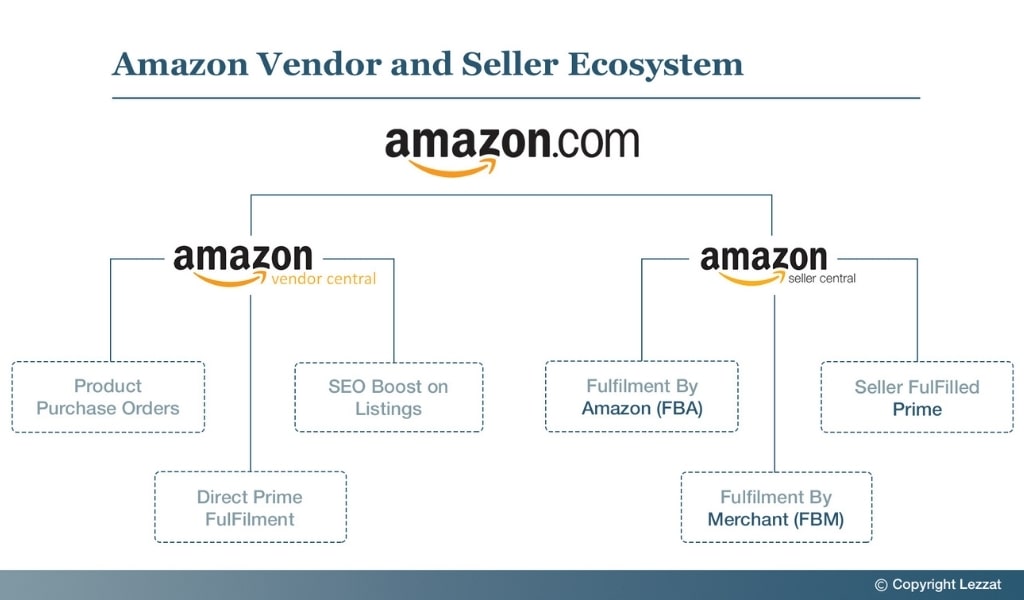 Pros of Amazon FBA:
The major benefit of using Amazon FBA is that Amazon has an army of loyal customers, which can mean increased sales for you. The benefits include:
Effortless Logistics and Shipping: Managing your fulfillment can be quite time-consuming. Thus, a higher volume of sales means more time spent packing and shipping, or more money spent hiring staff to handle these operations.
Discounted Shipping Costs: Amazon's contracts with the major shipping carriers give them steep discounts on shipping costs.
Management of Returns: Processing returns is a cumbersome process. They do charge a returns processing fee.
Customer Service Management: Amazon has an excellent reputation for customer support.
Potentially unlimited storage space: Using FBA you do not need to worry about running out of storage space for your products. Plus, you do not have to worry about the maintenance and security costs of the warehouse. Inventory levels should be monitored however to avoid excess fees.
Quick delivery: Amazon has hundreds of fulfillment centers all around the world. So, no matter where your customers are, they can reliably get products delivered to them within just a couple of days.
Fulfillment of orders from other channels: Amazon's Multi-Channel Fulfillment (MCF) service allows you to sell products on other channels as well (like BigCommerce) while still getting Amazon to fulfill those orders.
Cons of Amazon FBA:
However, there are some cons of choosing Amazon FBA over traditional business models or sales mechanism which are as follows:
No customization of the product sent to customers: If you want to add gift cards, bundles, or any other type of customization then FBA is not for you.
Long Term Storage Fee: Storage fees are not too bad unless your items sit for over six months.
Product prep can be difficult: Amazon has strict guidelines on how to prepare and ship your items to them and sometimes inventory gets lost (yes that happens a lot!).
Tracking inventory can be difficult: Difficult to keep inventory changes in sync if you are selling on multiple channels.
Sales tax can be difficult: Every different territorial region has different sales tax rules and Amazon keeps on shuffling inventory between warehouses which makes it even more complex.
If you are not familiar with Amazon practices and policies, then FBA is your ideal choice and there is no harm in taking help from someone who knows how to do the job. Feel free to get in touch with one of our Amazon Marketing Experts for more info.
Vendor Central Pros and Cons
Pros of Vendor Central
Sold By Amazon
Amazon sellers can join Vendor Central only via invite from the corporate team. Once they're on board, their products will then be listed as "sold by Amazon" – likely offering a boost in shopper trust and confidence.
Marketing Tools
Vendors also enjoy added marketing opportunities through AMS (Amazon Marketing Services) and are only responsible for the back end of the supply chain – inventory, billing, etc.
AMS offers effective tools to help Vendors stand out against their competitors and drive traffic to product detail pages and branded pages. As Vendors know, every click does not equal a purchase – so it is important to understand how to leverage AMS to its full potential.
The primary benefit of using AMS over other services, is that it gives sellers/advertisers a direct opportunity to get their products and brand in front of additional in-market shoppers on amazon.com.
Specifically, the ability to target individual product detail pages gives sellers an opportunity to introduce their products directly alongside competitor products when consumers are at the last stage prior to conversion.
Avoid Fees
Vendors avoid typical Amazon seller fees, which includes costs for referrals, fulfilment or even just having an account in the first place. Instead, Vendors pay a flat fee for going "pro," which allows them to sell unlimited products for $39.99 per month. It also includes fulfilment by Amazon and gift-wrapping options.
Cons of Vendor Central
Margins
Since pricing is fully in the hands of Amazon, Vendors may not see the profit margins they were hoping for on certain products. There are no minimum pricing policies, so a Vendor could, technically, even lose money if the price drops too low.
Inventory Concerns
Being an Amazon Vendor also comes with some high stakes logistical concerns. Amazon can be pretty demanding when it comes to inventory and order fulfilment and new Vendors often struggle to maintain the proper stock levels.
New Product Launches
If you are a Vendor, it can be difficult to launch products using Vendor Central alone. Amazon has no incentive to buy that product from you because they don't know the potential of the new product just yet.
Amazon is unsure of how sales will perform. It could be a successful product in the future, but Amazon isn't likely to place purchase orders on an item with no history.
Conclusion
Take some time to consider the pros & cons of its seller types and which one better fits your business in the present but also in your future goals.
If you want to take the full package that Amazon services can provide -FBA is the best option here. If you think product management and customer service should be in your hands, you already know the answer – choose FMB. Finally, if you're aiming to expand your online presence as fast as possible -you are a Vendor and should try to get yourself on to the Vendor invite program.
All paths conclude in the same road, start selling on Amazon.
What are your thoughts about the different types of selling on Amazon? Do you need some help to take the right option?
Let's take the first step together by clicking here.
Please consider to Like&Share!