The beauty of Amazon is that you can sell pretty much anything on it. But, this attraction has led to crowded marketplaces where products can often blend into each other.
So, how do you make your Amazon listing stand out? There are 10 vital factors involved in making a perfect Amazon product listing, which we detail below.
We don't stop there either, how would we know these 10 steps without the needed expertise? Click on our dedicated website and find out.
How to Create a Successful Amazon Product Listing
In no particular order, here are the most important things to nail if you want a successful Amazon listing.
1. Great Product Photography
Almost no one will buy a product that doesn't have images. In fact, 90% of respondents in one survey said that photo quality is the most important factor when buying online.
While photos don't directly affect your Amazon listing rank, they do increase sales, which in turn increase your ranking in results.
Luckily, we have a dedicated professional studio for Amazon product listing photography. Contact us for more information on how we can help.
2. Supporting Images that Bring the Product to Life
Along with clear product images, you also want to include lifestyle images and infographics. Through your Amazon listing images, you need to demonstrate how consumers will use the product in their lives.
Infographics should explain important points about your product. These include dimensions, capacity, uses, and any other information that feels relevant.
We've written a full article on Amazon product photography, so check that out for more information.
3. Video Content
Videos can increase traffic by 76%, meaning more hits on your Amazon product listing. Plus, it gives your product greater authority compared to others that lack a range of visuals.
Along with a video, you should also include a 360-degree product view.
4. A+ Content
To make your listings stand out even further, Amazon is giving brand registered companies the space to showcase additional product content in the form of A+content and you can customize this area however you like.
But, this doesn't mean sparse, boring content. You must convey important information but also tell a story to your consumers. The best Amazon listing content will create an emotional response in its readers, giving them a reason to buy.
So, be sure your Amazon A+ content explains:
How the product works.
When/where your product should be used.
What it can be used for.
Then it should also tell consumers why they should buy your product. Obviously, you can't answer this outright, as people's answers will be different. Simply answer questions like:
What problem does your product solve?
How will your product improve the consumer's life?
These should get you started on answering the "why" in your Amazon product listing and showcase this effectively in the A+ content is sure to increase your sales and visibility of your listings.
5. Optimized Content Using SEO
Amazon is a search engine like any other, meaning SEO is effective at improving your ranking.
There are great tools out there, above we have an example of how a keyword tool looks like, in case somewhere, sometimes you had passed by one of those.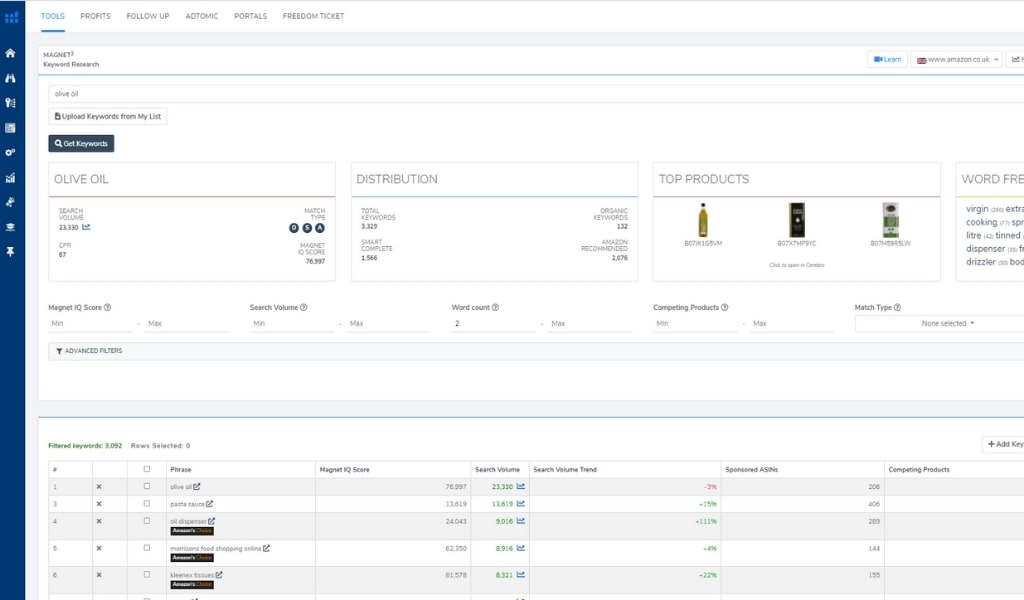 Be sure to use a keyword planner such as Scope, Helium10 or JungleScout (which is specifically for Amazon listing optimization). After finding the most relevant keywords, add them throughout your listing's text.
It's vital to place them in the title and description, but also in the body text, FAQs, image descriptions, and so on. Our e-commerce marketing strategy services can assist you with your Amazon listing optimization.
When done on your own, it's often a game of trial and error unless you have a clear understanding of SEO best practices.
6. Informative Key Features
We've covered this in our point about Amazon listing content, but it deserves more explanation here. The information provided in your listing must be informative and add value to the overall result.
Most consumers won't read past the product features description if they don't feel an immediate connection. Therefore, you need to answer any initial questions as soon as possible.
For example, describe the product's purpose first and then follow up with some brief bullet points highlighting its main features. These could be size, colour, features, and functionality.
While it's important to discuss the benefits in your Amazon listing, save that for the longer description later. The initial description just needs to hook potential consumers.
7. Clear FAQs
FAQs help a consumer to decide about whether the product is right for them.
For example, this might include information about compatibility, energy use, adjustability, warranty, and more.
Put yourself in your consumer's shoes and think about what you'd need to know to make a decision. If it's not information you feel works in the product description, add it into the FAQ.
Better yet, consumers can ask their own questions, which you can then add to your Amazon listing along with your answers.
8. Have Good Reviews (and Plenty of Them)
For your Amazon product listing to rank well and appeal to new buyers, you need good reviews. This translates to an average of 4.5 stars or higher and more than 100 reviews.
Amazon sends an automatic follow-up email, which you can supplement with a one-time review request. The faster you build these reviews up, the better your chances are.
9. Bullet Points
Bullet points are a great way to quickly highlight information on your Amazon product listing. You can show features and benefits in a clear and concise way, making them easier to digest.
That said, don't go overboard with the bullet points. Consider a list or two in the beginning and main product description. Any more can look a bit tacky.
10. Have a 10/10 Product
The most important thing for a perfect Amazon listing is a product worth selling. This might seem obvious, but give your potential consumers a reason to part with their money.
Be sure to offer a product that you have confidence in otherwise your consumers will also lack confidence in it.
There you have it, all steps on "How to Create a Successful Amazon Product Listing".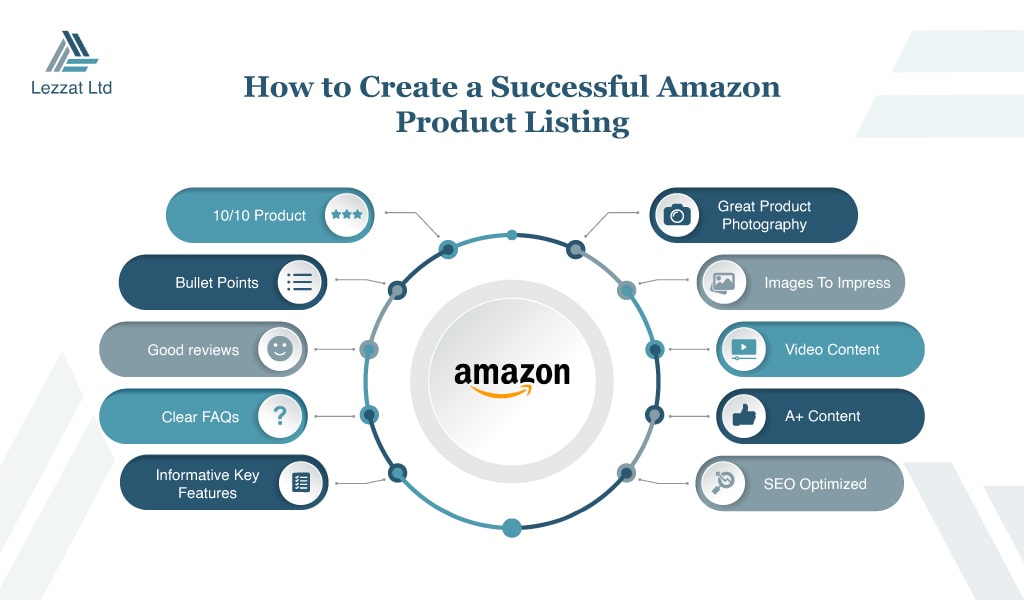 Conclusion
As you can see, there's a lot to consider when creating a perfect Amazon listing. You need to juggle lots of factors while providing information-rich Amazon listing content that's properly optimized.
Clearly a lot more complicated than what it seems, right?
If all this sounds like too much work, get in touch with Lezzat. We're a full-service E-commerce firm that can help you achieve hard-hitting Amazon listing optimization.
Please consider to Like&Share!