Being a business-to-business (B2B) supplier has plenty of benefits, but also some disadvantages. For example, dealing with sales reps and commissions can detract from your overall profits. Have you ever heard of Amazon B2B?
But, what if there was a suitable platform allowing you to sell directly to businesses without the unnecessary middle steps? Welcome to Amazon B2B.
In this article, we'll cover Amazon B2B services, how to sign up, and how to make it work for your business.
Of course, if you need Amazon B2B marketing assistance, Lezzat is the Amazon Marketing Agency for you. Meet us here.
What is Amazon B2B?
The platform is officially called Amazon Business and unsurprisingly facilitates B2B sales. It's separate from the main Amazon website and is aimed specifically at businesses that sell to other businesses rather than directly to consumers.
Its main purpose is to provide bulk ordering and discounted prices on business supplies of all kinds. This could be bar supplies, stationery, or anything else you think a business would need.
Amazon B2B services are split into two sections: buyers and sellers. To become a B2B seller, you can either sign up directly or use your Amazon Professional Seller account.
If it's the latter, you need suitable seller metrics. As you'd expect, this includes things like seller feedback and sales performance.
From the buyer's side, you need to register with an Amazon Business Account. The requirements for this are far less than for the seller's side – you simply need to be a registered business, government organization, or non-profit.
Whichever side you're on, Amazon B2B is only available if you're a VAT-registered business. This is because it can involve VAT-exclusive prices and specific VAT invoicing.
How to Get Products on Amazon B2B
The initial steps of getting started on Amazon B2B aren't drastically different from the standard B2C platform. You simply sign up and start creating listings. One of the key Amazon B2B services is that you can upload single listings or in bulk.
Of course, your products need to be suitable for a B2B setting (more on this later).
Some categories require approval before you can start selling. This includes things like jewellery, media and media devices, industrial and scientific supplies etc.
When setting up your account, Amazon will provide a list of relevant products and will state whether you need approval before the listing goes live.
Other than the basic listing process, there are several useful features for B2B sellers:
Business Pricing and Discount
You can set discount and bulk-buy prices as part of your Amazon B2B strategy. It could either be a set discount price regardless of the quantity purchased or a tiered discount system.
Business SKUs
Creating a business SKU means that your listing will only be seen by businesses rather than customers. This allows you to create specific pricing setups designed for businesses.
VAT Invoicing
Amazon B2B has an automatic VAT calculation service (hence why you need to be VAT registered). It also generates VAT invoices automatically and displays VAT-exclusive prices to relevant businesses.
Importantly, Amazon B2B services are designed to be quick and easy to use. The platform's basic functionality isn't far off Amazon B2C for this exact reason.
Granted, your listing optimization strategies will be different, but getting products up and running is pretty much the same.
Is Amazon B2B Suitable for All Businesses?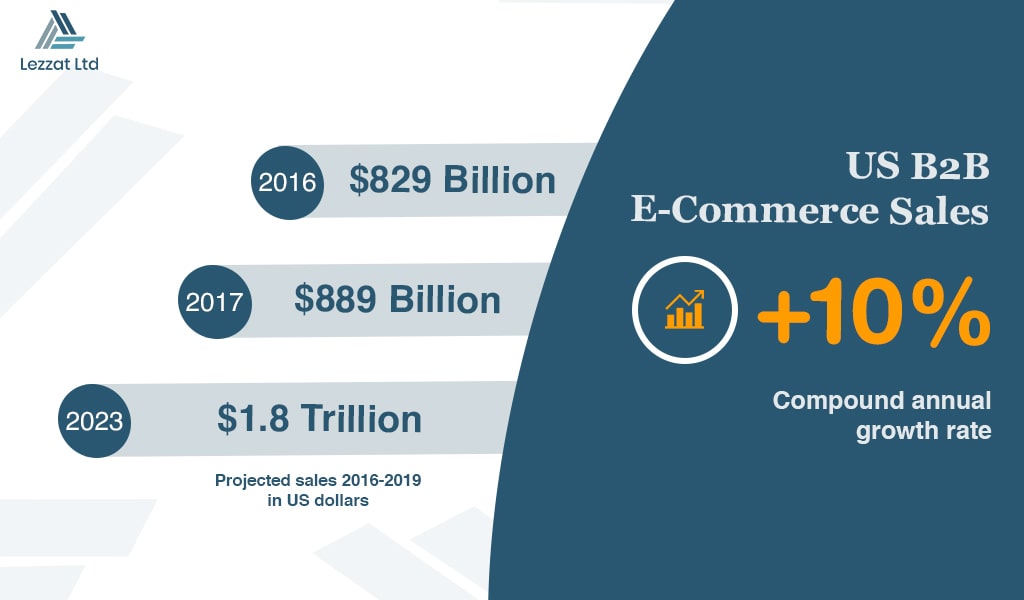 Theoretically, nothing is stopping you from getting on board with Amazon Business. With the right Amazon B2B business model, you could sell anything you want to any business.
That said, it's definitely better suited to some businesses than others.
At the broadest level, Amazon B2B services are suitable for companies that:
Focus on B2B selling.
Sell products with margins that allow bulk discount offers.
Sell both B2B and B2C but have room for offering discounts.
Want to sell to a wider B2B audience by making use of Amazon's reach.
The beauty of Amazon B2B is that you don't have to make all your products available on it. You can create business SKUs for some of your stock depending on its saleability and margins.
But, does that mean Amazon B2B services are right for your business?
Is Amazon B2B Right for Your Business?
The answer to this question largely depends on what it is you sell. It's ideal for companies that have high order fulfilment rates, ship in bulk, or cater to repeat orders.
For example, if you sell eco-straws to cafes or pub snacks to a chain, then Amazon B2B would be ideal for you.
The bottom line is that you need to provide products that companies need and will use, and are able to offer discounted pricing. This can either be on one-off orders or tiered depending on your Amazon B2B business model.
If you are searching for new product opportunities, Amazon has up to 1.000 recommendations for you.
But, if you're selling something like jewellery or handmade goods, you might not notice the same kind of benefits from using the platform.
It mainly provides benefits to companies that ship in bulk, as this better justifies the fees and tax exceptions, if applicable.
Amazon B2B Marketing
One of the main advantages to Amazon B2B compared to the B2C platform is that marketing is much easier. This is mainly because the platform isn't as saturated, meaning there's notably less competition.
Even so, you do still need to create a suitable Amazon B2B marketing strategy. For example, you might use discounted pricing as a way of generating more sales, even if it means a slight hit to your profit margins in the short term.
From our experience, clients see an average of 5-25% of their sales on Amazon B2B if they develop an optimized Amazon Marketing Strategy.
More on this, 55 of the Fortune 100 companies are Amazon users and they know what do to do when they see a profit opportunity.
Conclusion
Amazon Business has the potential to improve reach and increase sales. Of course, this requires the right Amazon B2B business model and marketing.
If you want to get involved but don't know where to start, Lezzat is here for you. As a professional Amazon Marketing Agency, we have experience setting B2B clients up for success, have a look at our dedicated page.
Are there everything you need to know?
Amazon B2B seems as an opportunity that many out there haven't noticed yet. What's your thoughts about it?
If you still want more answers read our Amazon blogs or ask us directly.
Please consider to Like&Share!