With the holiday season fast approaching and Christmas presents at the top of many to-do lists, now is the best time to start planning your Amazon Holiday Strategy.
As an Amazon marketing agency in the UK, Lezzat regularly helps clients develop effective strategies for maximizing sales during the holiday period.
Here are our top 10 tips to get you started.
10 Tips for a Successful Amazon Holiday Season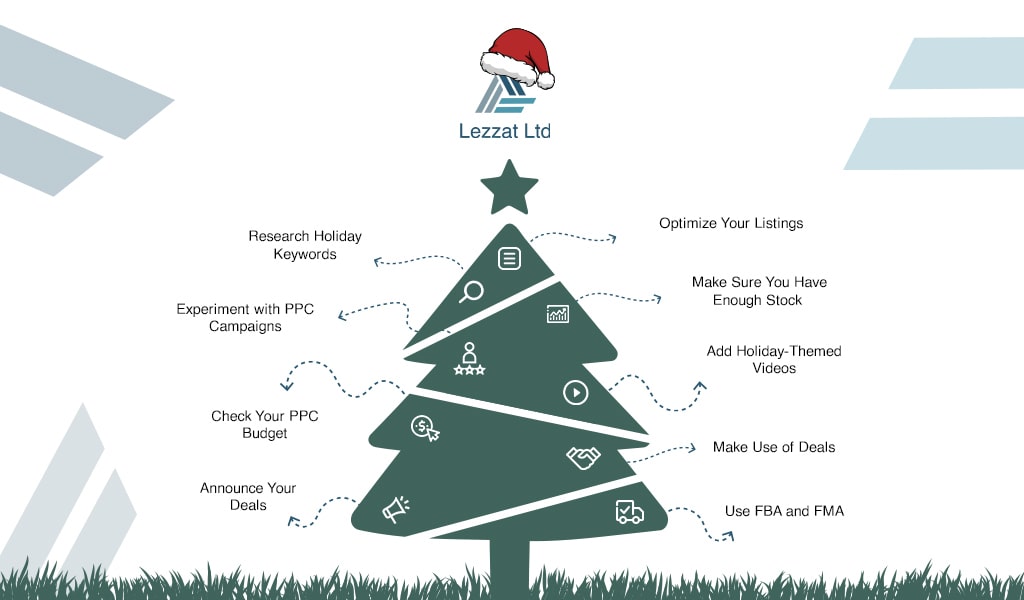 1. Optimize Your Listings
Now is a good time to optimize your listings with holiday keywords and professional product photographs – we have a dedicated photography studio for that.
Use your YTD sales records to see which products sold (and the keywords you used) to get ready.
If you need help with Amazon marketing services – including professional product photography – get in contact with Lezzat.
2. Research Holiday Keywords
Holiday keywords deserve their own attention. At the most basic level, they include terms like "Christmas presents", "Hanukkah", "gifts", etc.
Use the analytics tool on Amazon's Brand Registry to do your keyword research. It'll show you the most successful terms, which you should then include in your listings and backend search terms. Ensure your existing keywords are performing well, too.
After all, many customers will still use these if they already know the product they want as a Christmas present.
3. Make Sure You Have Enough Stock
In 2020, Amazon saw its biggest jump in holiday sales ever. As Amazon sellers, we can only hope it'll happen again this year. You really want to support your Amazon holiday strategy with enough stock for your customers.
But what do more sales mean (other than profit)? More stock, of course! Look back at your YTD figures, and those of your competitors using keyword research. See which products sold well and ensure you have enough stock in place.
Factor in your sales for the rest of the year, too, particularly if you've seen a steady uptick in demand. Begin the ordering process now to accommodate delays in shipments and imports.
While high storage costs aren't great, they're arguably better than running out of stock during the holiday period.
4. Use FBA and FMA
If you're typically an FBA seller, switch your listings to also be FMA, click here to find out more.
It's one of the easiest strategies for dealing with outages during the Amazon holiday period. Of course, you'll need somewhere to store your stock if you go down this route. Look at your options and weigh up the costs.
Considering you can only have limited stock in Amazon's fulfilment centres, it's generally a good idea.
5. Make Use of Deals
Now is a good time to start thinking about deals you can offer. First, if you're an FBA seller, make sure you leverage Amazon Prime to your advantage.
While not a deal per se, fast shipping could be all the incentive someone needs when buying Christmas presents. Other than that, think about what deals would work best.
For example, if you sell items in multiple, a discount off a spent amount is great. If your products work well together, set up some bundles.
If you haven't used discounts before, it can be difficult to know what works best. While you can do competitor research, you could also make use of Lezzat's Amazon Marketing Services.
We can come up with an effective deal strategy to boost your sales over the holiday period. Want more info, you can check here JungleScout's blog.
6. Announce Your Deals
Once you've set up some deals, make sure you announce them. After all, you'll want to draw in both new and existing customers and turn those clicks into sales. Otherwise, your Amazon holiday strategy won't have the expected results.
Make sure you cover every appropriate social media channel and your website. Take time to develop announcements tailored to the platform, product, and audience. If you're not sure where to start, contact us for Amazon marketing services.
7. Check Your PPC Budget
PPC campaigns are great for getting your product out there any time of the year. When it comes to selling Christmas presents, an effective PPC campaign can do wonders.
That said, keep an eye on your budget. You can expect to pay more during the holiday season, but that's not an excuse to let it shoot through the roof.
Increasing your bids should be balanced against the potential increase in impressions. One option is to use the Dynamic Bids – up and down option.
It, unsurprisingly, adjusts your bid based on Amazon's assumption of its conversion rates.
8. Add Holiday-Themed Videos
Running an Amazon Store Front gives you access to extra lifestyle media, including videos.
Have you invested in an awesome holiday lifestyle video?
Perhaps it shows your products being given as Christmas presents or demonstrates something similar. If so, now is the time to break it out. Your storefront can run 20-second videos on a loop.
9. Experiment with PPC Campaigns
Along with checking your PPC budget, try working on some new PPC campaigns.
Play with some new holiday keywords you haven't used in the past and see what might work for your listings. Investing time into it now gives you a chance to push the boat out a little and get the edge on your competition.
If they're using the same PPC campaigns like last year, try doing something different. If you're on the Brand Registry, you could also try some new sponsored ads or video ads.
In short, it's great to be prepared, and now is the time to do it.
Lezzat's Present – Make Everything Festive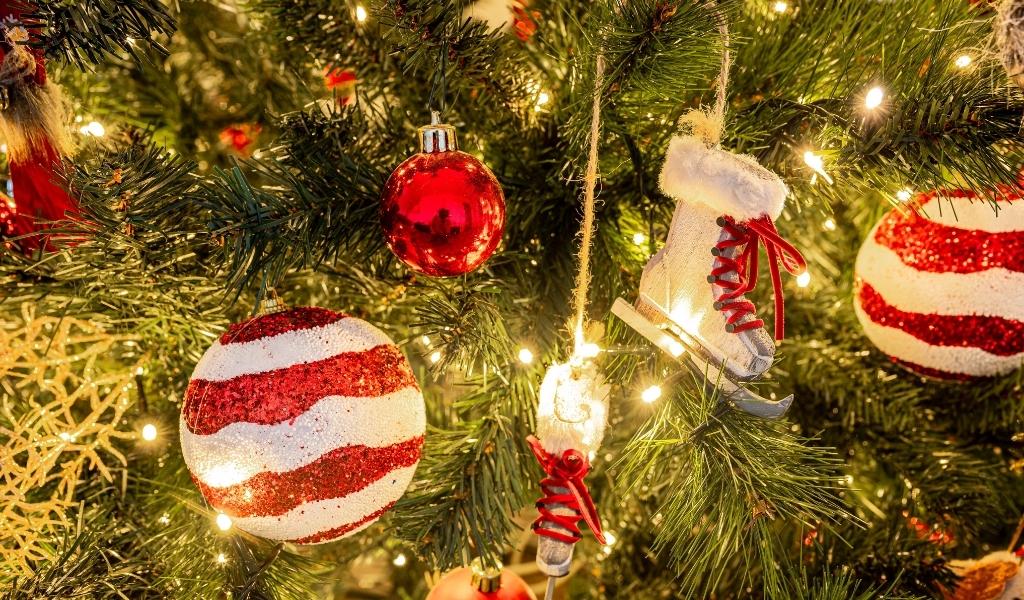 Switch up your Amazon Store Front to match the holiday season. Use a holiday theme and consider adding some Amazon Product Photography listings that's tailored to the season.
While not an explicitly sales-related tip, seasonal marketing just looks nice. Think of the difference when you walk into a physical store during the holiday season.
After all, who doesn't love a Christmas-themed storefront? Why not be creative? Have a look here if you need some ideas to start off.
Conclusion
With the holiday season on the horizon, make sure your Amazon holiday strategy is prepared and ready to go.
Whether it's holiday keywords or PPC campaigns, it's worth taking the time to adjust.
Contact Lezzat, you can either fill out our form to get a Free Quote according to your needs.
We're an Amazon agency in London that can build you a strategy for success this holiday season.
Merry Christmas & Happy New Year!